Granite Escrow & Settlement Services has one of the most extensive corporate teams, designed to aid and assist our branches and escrow officers at the local level. With over 200 years of combined management experience, our corporate team allows our escrow officers to focus solely on their escrow transactions and their clients. Below is a list of our corporate team:
Brad Cohen

President & CEO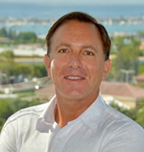 Brad Cohen is a graduate of the University of Arizona (1985) with a B.S. in Psychology and Business Administration. He worked for 2 years as Director of Expansion for the SAE National Fraternity & Foundation before joining the Xerox Corporation in their corporate management program. In 1988, Brad worked for a year as a Title Representative for North American Title Company. He was then recruited to work for Heritage Escrow Company, and opened their 4th location in Newport Beach. Within a short time he became a part of their corporate management team, first as Sales Manager and then as their Senior Vice President. Brad was an essential part of the company's growth, helping it expand from 4 locations to 26 locations throughout the state of California, making it the state's largest independently owned escrow company.
In 2009, Brad decided to start his own company and founded Granite Escrow & Settlement Services. Through earning the respect and loyalty of his former associates, some followed him to his new company and many others in the industry reached out to join the Granite Escrow team, becoming integral in the company's current growth and success. Brad's philosophy is to treat the employees like they are his clients and as a result, the clients will be well taken care of. Integrity and ethics are the core values he believes make a company strong. As a result, Granite Escrow & Settlement Services has grown to eight locations spanning across all of Southern California and is one of the largest independent escrow companies in California.
Brad served as the National President of Sigma Alpha Epsilon, the nation's largest college Fraternity with over 250 chapters, 15,000 undergraduate members and over 310,000 initiated members. Brad served as President of the OC chapter of the Juvenile Diabetes Research Foundation. He is currently an executive board member of the UC Irvine Diabetes Research Center and serves on the Board of Governors at Chapman University.
Brad is a resident of Newport Coast, CA and is married to his wife Kim. They have 3 children: Devon, and twins Zachary and Sydney.
Barry Sender

Chief Operating Officer & CCO
Beverley Woolf

General Counsel
Janet Moore

Senior Trust Accounting Manager
Julie McMillan

Vice President of Escrow Operations
Sheila Bracha

Manager of Escrow Operations
Chris Marquez

Senior Vice President of Sales
Nick Jones

Vice President - Finance & Accounting
Bryce Moore

Operations Manager