Granite Escrow & Settlement Services has one of the most extensive corporate teams, designed to aid and assist our branches and escrow officers at the local level. With over 200 years of combined management experience, our corporate team allows our escrow officers to focus solely on their escrow transactions and their clients. Below is a list of our corporate team: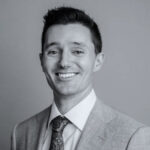 A graduate of Stanford University, Kris Kartozian joined First American Financial Corporation as an Associate Financial Analyst in 2011 after early graduation.
With a commitment to excellence and hard work, his diligence paid off and, over the course of 8 years, he advanced within the organization, receiving numerous promotions until he was appointed Vice President of Operations in 2016. Three years later, Kris was named President of The Heritage Escrow Company, where he skillfully led the premier independent escrow company and its talented team.
First American Financial acquired Granite Escrow & Settlement Services at the end of 2021 and – due to his outstanding track record – appointed Kris as its President in 2022.
When Kris isn't at the helm guiding Granite's world-class escrow operations, you can find him either on the golf course with friends or spending quality time with his wife Chloe and their two adopted golden retrievers – Charley & Baxter.
Barry Sender

Chief Operating Officer & CCO
Beverley Woolf

General Counsel
Janet Moore

Senior Trust Accounting Manager
Julie McMillan

Vice President of Escrow Operations
Sheila Bracha

Manager of Escrow Operations
Bryce Moore

Operations Manager