Boomers and millennials will continue to heavily influence retail.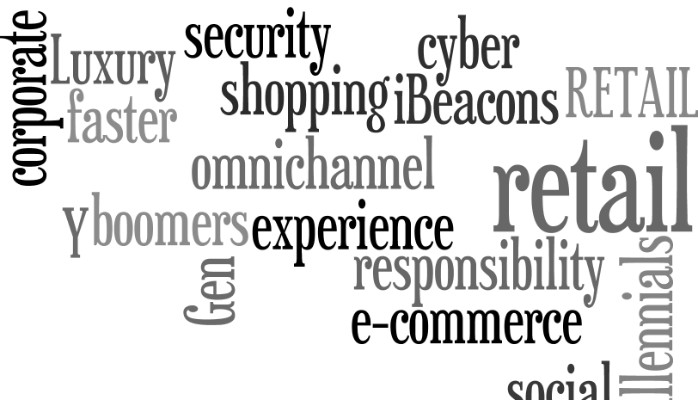 The needs and preferences of two prominent generations will continue to drive retail. baby boomers and millennials.
a large number of boomers will be in their 60s and 70s next year, and retailers that cater to these consumers would need to adjust to make shopping easier for them.
As consulting firm PwC noted, "the Baby Boomer generation will age with increased financial resources and with a greater emphasis on youth and vitality than previous generations. As a result, they not only will tax manufacturers to adapt products to their specific post-retirement needs, but also will require retailers to respond to their evolving needs as they approach the age of 70 in 2015.
On the flip side, millennials (also known as Generation Y) an equally large market segment will also be a major influence in retail.  Merchants who want to reach millennials will need to invest in mobile, as they are the largest group of smartphone owners.  Speed is also an essential factor when it comes to reaching the millennial market. As a generation that grew up in an age where almost anything is just a click away, millennials have a tendency to be impatient. Retailers who want to engage them must invest in more robust order fulfillment systems and fast (but excellent) customer service.
Expect to see some of these changes coming your way in the next 12-24 months
Loyalty programs: as we know them will become defunct. Forward-thinking retailers will find new ways to make each experience unique and memorable, and future programs will reward shoppers for engagement and specific actions.
POS Technology: will eventually become extinct.  Cloud based systems have an opportunity to outperform in all areas of speed, functionality, performance and looks.
Near Field technology: will continue to grow and develop  through the use of beacons.
Wearables: we probably won't see every consumer wearing a smart device by next year (not yet, anyway), but this won't stop forward-thinking retailers from experimenting with the technology.
Augmented reality: virtual fitting rooms, interactive displays will be designed to provide the retailer with critical information on their customers shopping habits
E-commerce vs brick and motor:  Expect to see more more e-commerce only players enter the brick and mortar segment and open physical stores. The majority of retail still takes place offline but despite good news for traditional retailers who welcome that news, expect competition to heat up with these new entrants.
Omnichannel: Stores who have implemented or plan to implement a true omnichannel  experience, will thrive, as shoppers demand an improved customer experience.
Corporate Social Responsibility(CSR): Consumers are drawn to retailers that invest in CSR.
A survey by Cone Communications and Echo Research uncovered that 87 percent of global consumers factor in CSR into their purchase decisions.
So what is the bottom line for retailers? In my opinion it all boils down to one strategy.
How do we improve our customers shopping experience ?  Its all about faster, cyber-safety and more enjoyable.